Altapure AP-4 ™ (USA) Plug and Play aerosol disinfection unit
Mobile system for aerosols disinfection of air and all surfaces in the room, including air conditioners. Only Altapure technology will make your premises completely safe in just one hour. More about Altapure AP-4 ™ on the manufacturer's website: https://altapure.com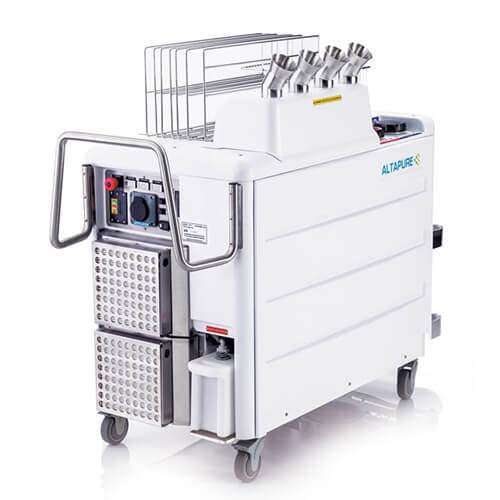 Place your order at ETW-Tekhnologiya, Netherlands – Altapure's official representative in Europe and EMEA.
We will quickly deliver your order to any country.
Average particle size = 0.69 microns.
Dimensions: length = 52 inches (132 cm), width = 25 inches (63.5 cm), height = 44 inches (112 cm).
Robust construction of food-grade and acid-resistant materials
100-120 V / 20 A, 50/60 Hz, all international power supply options available.
Processing up to 170 m3 with one system (connecting rooms are included or at the same time).
Parts and works have one-year warranty.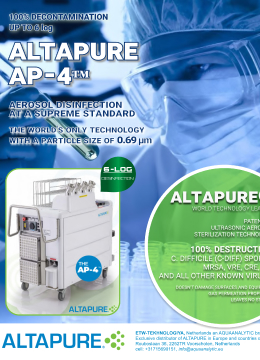 Altapure® AP-4 ™ High Level Disinfection System
Price:  € 137177,00 *
* Local VAT is not included in the price. Please contact us to choose the delivery terms that are convenient for you, value may vary from this.
Name: ETW-Tekhnologiya B. V.
Address: Rouboslaan 36, 2252TR Voorschoten, Netherlands

Bank IBAN: NL67INGB0007873468
Bank SWIFT/BIC: INGBNL2A
Company contacts:
Phone: +31 715 69 01 51
Email: [email protected]
The system is designed for preparation and spraying of monodisperse disinfecting aerosols with an average particle size of up to 0.69 microns. Own proprietary technology, unattainable for the majority of manufacturers is used. The aerosol produced by Altapure AP-4 ™ is gas permeable and has dry fog properties without condensation on surfaces (dew).
With no cohesion (dew) effect, submicron coverage and 100% decontamination (elimination of all known pathogens) are achieved up to 6 log values (99.9999%).
Other devices on the market that spray particles larger than 1 micron (typically 5 µm to 20 µm) produce droplet suspensions (not aerosols) that quickly settle onto the floor in the room under the influence of gravity and do not reach remote contaminated objects and hard-to-reach areas in the room.
You will get dew on the surfaces and, as a result, stains.
* A 0.6 µm droplet is held in the air for almost ten (10) times longer than a 2 µm droplet and almost fifty-seven (57) times longer than a 5 µm droplet.
* Aerosol is a dispersed system consisting of small particles (dispersed phase) suspended in a gas medium. Under the influence of the Brownian motion of molecules, the aerosol has the properties and permeability of a gas. The smaller particles in the aerosol, the more pronounced its gaseous properties.
Cohesion forces the liquid to form droplets, surface tension makes them nearly spherical. Disinfection gaps are possible between drops. Drops form puddles on the surface, stains. Altapure AP-4 ™ is guaranteed to cover the surface with a submicron film without cohesion.
Altapure AP-4 ™ High Level Disinfection System (HLDS)
The system consists of a single (one) mobile monoblock, which combines devices for production, aerosol spraying and a climatic purification system for vapors in the air;
No need for a catalytic converter against toxic fumes of hydrogen peroxide. The technology is used with an extremely low percentage of chemical ingredients;
The system body is made of durable, wear-resistant, corrosion-resistant food grade plastic and stainless steel;
System dimensions: length 132 cm, width 63.5 cm, height 112 cm;
Processing up to 170 m3 by one system (connecting rooms are included / simultaneously);
Ability to use multiple systems at the same time from one tablet for large rooms;
Destruction of bacteria, fungi and viruses up to 6 log values (99.9999%);
Complete disinfection in 50 minutes from the moment of beginning, before the person enters the room;
Full automation of the process (without human intervention);
Aerosol particle size 0.69 µm (average value);
Remote control of the system using a tablet and data transfer to a PC;
Use of disinfection solutions based on peracetic acid (peroxyacetic);
Proportions of solutions: peracetic acid = 0.18% hydrogen peroxide = 0.88% = distilled water;
Fully biodegradable antiseptic microfilm is not harmful to humans and does not cause corrosion on surfaces, since the value of hydrogen peroxide is 0.88% instead of 25-35%;
The disinfectant compound is registered with the EPA as "Cold Sterilant";
Lack of silver in solution (the presence of a residual silver ion prevents its use in pharmaceutical cleanrooms and most food products as silver is considered a toxic heavy metal by the EPA);
The ability to control the size of aerosol drops, if necessary;
The process is not sensitive to temperature and humidity in the room;
Testing the effectiveness by test strips inoculated with Geobacillus stearothermophilus spores for placement in hard-to-reach areas of the room.
Includes devices for automatic closing / opening of ventilation ducts in your room;
Powered from one 220-240-volt outlet, 50 hertz or higher, to choose from.
Fraudsters often deceive you with the use of UV radiation, ozone in the air and fine irrigation (not aerosol) for disinfection.
Demand confirmation by tests! Contact our specialists for a consultation in order to obtain an explanation of the disinfection methods and their differences.
Advantages over other disinfection technologies and confirmed exposures on the official Altapure website.
You can trust the 10-year experience of our engineers in striving to provide the best solutions for your business!