Evoqua VAF™ V-1000 Automatic self-cleaning screen filter
Automatic self-cleaning screen filters for removal of suspended solids from 10 to 1500 micron for any flow rate 30 gpm+. You can always contact us and order any Evoqua VAF™product from this series or other. VAF V-200P, V-250, V-500, V-1000, V-1500, V-2000, V-3500, V-8000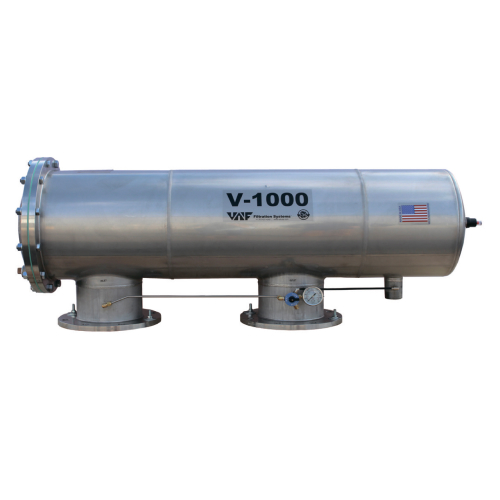 Place your order at ETW-Tekhnologiya, Netherlands.
We will quickly deliver your order to any country.
The V-1000 in stainless housing is perfectly suited for process water, cooling tower filtration, pre-filtration of membrane, irrigation, or wherever suspended solids are removed down to 10 micron.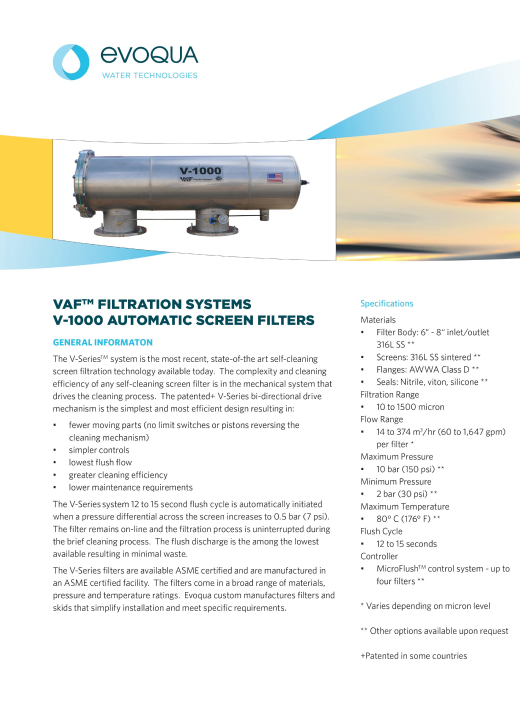 VAF™ Filtration Systems V-1000 Automatic screen filters

Price:  € 10 400,00 *
* Local VAT is not included in the price.
Please contact us to choose the delivery terms that are convenient for you, value may vary from this.
Name: ETW-Tekhnologiya B. V.
Address: Rouboslaan 36, 2252TR Voorschoten, Netherlands

Bank IBAN: NL67INGB0007873468
Bank SWIFT/BIC: INGBNL2A
Company contacts:
Phone: +31 715 69 01 51
Email: [email protected]
Evoqua VAF™ V-1000 Automatic self-cleaning screen filter
Evoqua's VAF™ brand V Series filters feature the most advanced and cost effective self-cleaning screen filtration technology available today.
Ideal for flow rates from 7 m3/hr to 500 m3/hr.
The V Series filters offer the best value solution for automatic filtration down to 10 micron rating.
The patented V-Series™ bi-directional drive mechanism used in the V 200 is the most efficient and simplistic design available resulting in:
fewer moving parts
simpler controls
the lowest flush flow rates and volumes available
no power required
multiple pass cleaning
limited maintenance requirements
Constructed of glass reinforced nylon and 316L stainless steel, the inherently corrosion resistant materials of the V Series filters ensure a long service life under a wide range of water quality conditions.
The 10 to 15 second flush cycle is automatically initiated when a pressure differential across the screen increases to a maximum of 0.5 bar (7 psi). The filter remains on-line during the cleaning process. The flush discharge is among the lowest available resulting in minimal waste.
When installed with a battery operated controller and valve, the filtration system operates completely with line pressure requiring no electricity making the V-1000 filter the optimal solution for remote filtration applications. (Solar option is available).
You can trust the 10-year experience of our engineers in striving to provide the best solutions for your business!