Ionpure VNX55EP-2 high flow continuous electrodeionization (CEDI) modules
The Ionpure VNX55EP-2 unit belongs to the high capacity range of high water purification units. You can always contact us and order any Ionpore product from this series or other. VNX-MAX-1P, VNX-MAX-1, VNX-MINI-1P, VNX-MINI-1, VNX55E-2, VNX55EX-2, VNX55HH-2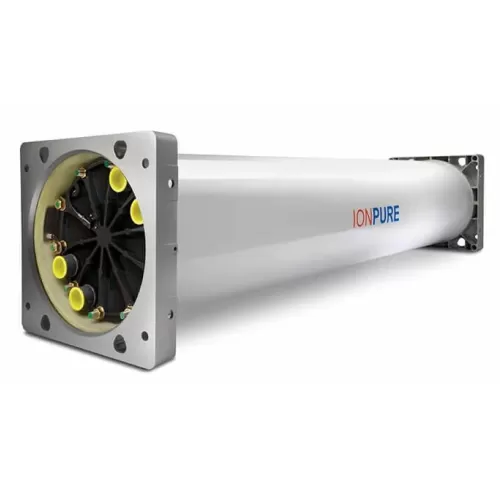 Place your order at ETW-Tekhnologiya, Netherlands.
We will quickly deliver your order to any country.
Flow Rate, m3/h (gpm):


Minimum 25.0 (5.7);
Nominal 55.0 (12.5);
Maximum 82.5 (18.7).

Recovery: 90 – 95%.
Product Resistivity: DI Water >18 MΩ.cm.
Silica and Boron removal is typically >95%.
No need for acid/caustic, neutralization systems or DI tank exchanges.
Connection fittings are included.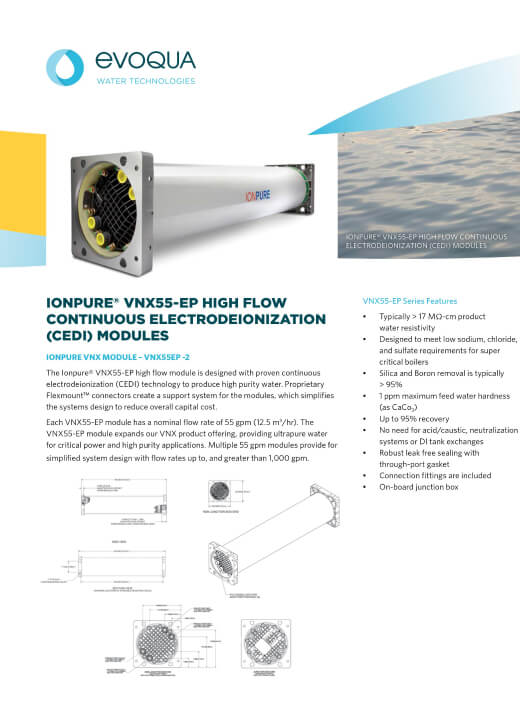 Ionpure VNX55-EP high flow continuous electrodeionization (cedi) modules
​
Price:  € 23 323,00 *
* Local VAT is not included in the price. Please contact us to choose the delivery terms that are convenient for you, value may vary from this.
Name: ETW-Tekhnologiya B. V.
Address: Rouboslaan 36, 2252TR Voorschoten, Netherlands

Bank IBAN: NL67INGB0007873468
Bank SWIFT/BIC: INGBNL2A
Company contacts:
Phone: +31 715 69 01 51
Email: [email protected]
Ionpure VNX55-EP high flow continuous electrodeionization (cedi) modules
The Ionpure® VNX55-EP high flow module is designed with proven continuous electrodeionization (CEDI) technology to produce high purity water. Proprietary flexmount connectors create a support system for the modules, which simplifies the systems design to reduce overall capital cost. Each VNX55-EP module has a nominal flow rate of 55 gpm (12.5 m3/hr). The VNX55-EP module expands our VNX product offering, providing ultrapure water for critical power and high purity applications. Multiple 55 gpm modules provide for simplified system design with flow rates up to, and greater than 1,000 gpm.
You can trust the 10-year experience of our engineers in striving to provide the best solutions for your business!