Chloropac Marine Growth Prevention System
More than 40 years of proven application utilizing in-situ self-cleaning Chloropac cells generating sodium hypochlorite.
Place your order at AQUAANALYTIC, Dubai.
We will quickly deliver your order to any country.

Generation is on-site so there is no storage, handling or movement of hazardous chemicals

IP44 and IP56 (ATEX & IECeX versions) electrical enclosures with easy access and reduced footprint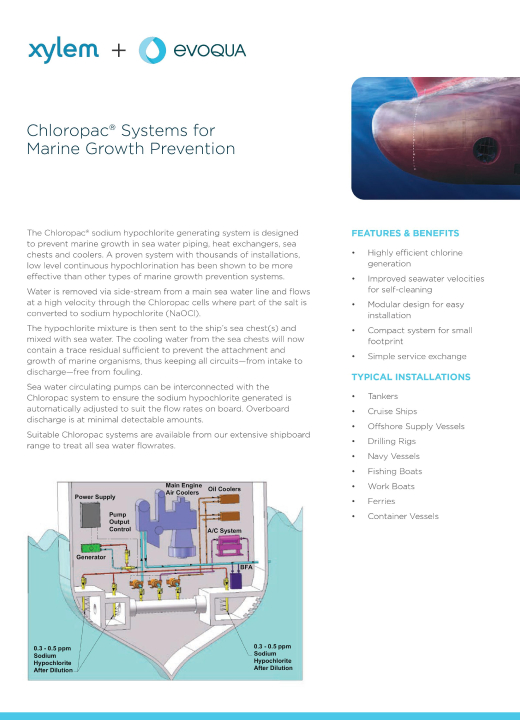 Chloropac Marine Growth Prevention System
Chloropac Marine Growth Prevention System
Chloropac systems produce, in situ, a dilute, safe solution of sodium hypochlorite for direct injection into the water circuit for prevention of growth of common marine species.
Our advanced electrolyzer technology, available in a choice of basic cell designs — coupled with our long standing expertise in anode and system development — has freed thousands of customers worldwide from the cost of purchasing and the danger of handling harsh chemicals associated with other technologies.
Evoqua's Chloropac system utilizes Concentric Tube Electrolysis (CTE) cells to provide the efficient chlorine generation with high internal velocities to keep the cell active surfaces clean. Chloropac system cells are available in a wide capacities, thus enabling the Chloropac cells to be packaged in to standard electrolyzer or a full packaged system that are both compact and with significant weight savings. This allows systems to pass through standard hatchways, corridors and into existing footprints with ease. This patented technology is self-cleaning so does not require costly acid washing – leaving you to run you platform, vessel or plant, and not worry about biofouling issues.
FEATURES

Compact, modular design

Safe and low maintenance, simple sealing plastic outer shell and safe access to electrical connections.

High output availability —no off line acid cleaning required.

Individual Chloropac system cells easily removed and replaced with minimal downtime

Environmentally safe method, no chemical storage or discharge of heavy metals to the aquatic environment

Highly configurable system solutions with the fewest cells possible.

Chloropac system cells can be retro-fitted to existing CTE electrolyzers

Genuie replacement cell parts for older generation Chloropac system cells and Electrocatalytic Systems.
BENEFITS
Configured skid mounted packages for easy ingress for offshore and marine applications

Larger capacities gained through flexible building block concept

Self-cleaning can realize up to 20% cost saving in OPEX over lifetime of your vessel.
You can trust the 10-year experience of our engineers in striving to provide the best solutions for your business!