Defender RMF System Controller
Control and monitoring solution for Defender RMF system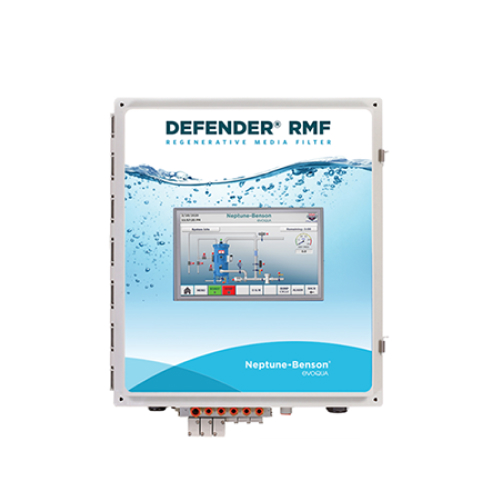 Place your order at AQUAANALYTIC, Dubai.
We will quickly deliver your order to any country.

Defender Regenerative Media Filters utilize an intuitive HMI graphic interface for controlling and monitoring all of its operations. The all new controller features a high resolution animated graphic display (HMI), advanced communication, data logging and remote monitoring capabilities.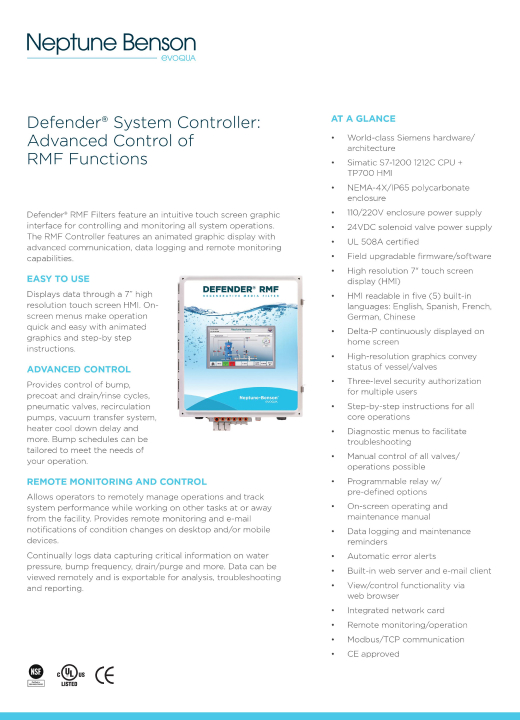 Defender RMF System Controller
Defender RMF System Controller
FEATURES

The RMF System Controller displays data through a 7" high resolution LCD and offers touch screen operation paired with on screen menus to make operation quick and easy. It also provides animated graphics with step-by step instructions on operating procedures.
The Defender RMF System Controller provides advanced control of bump and precoat cycles, pneumatic valves, recirculation pumps, vacuum transfer system, heater cool down delay, data logging and maintenance reminders.
The RMF System Controller features the ability to remotely manage operations. This cutting edge feature allows operators to keep track of system performance even when working on other tasks or while they are away from the facility. It provides remote monitoring, e-mail notifications of condition changes, and remote control of the system operations. Remote monitoring/operation can be done through any web browser or smart phone.
The RMF System Controller continually logs data providing detailed information on water pressure stats, bump schedule, purge and more. Data can be viewed remotely and is exportable to .CSV formats for creating reports and working with the data.
The data provided through the RMF System Controller can be used to analyze trends and modify operations to maximize efficiency. Analyze and identify peak usage, then automate or schedule bumping to insure optimal operation. Data logs can also be used to help troubleshoot issues by identifying operating issues.
You can trust the 10-year experience of our engineers in striving to provide the best solutions for your business!