Online process analyzer for the measurement of disinfectant concentration in clean water applications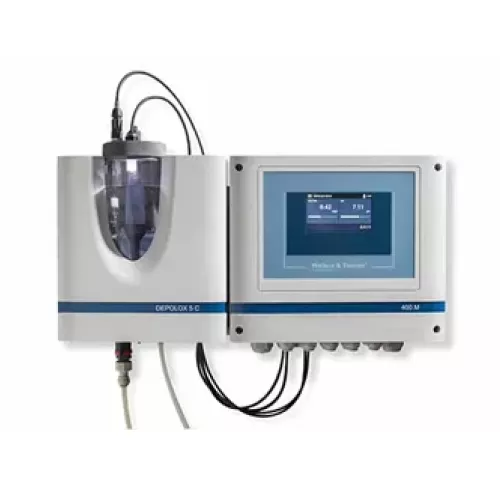 Place your order at AQUAANALYTIC, Dubai.
We will quickly deliver your order to any country.

Intuitive operation as well as easy visualization of all measured parameters via a 4" color touch panel

Smart operation features: user configured intervals for calibration checks and also for the instrument's service intervals

Very fast reaction to a change in disinfectant concentration with the popular DEPOLOX® bare electrode measurement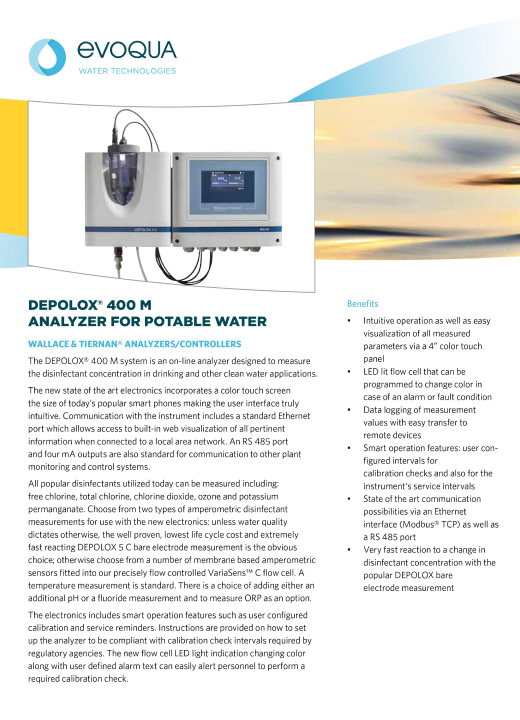 Evoqua's DEPOLOX 400 M analyzer is designed to provide operators with a simple, intuitive touch panel interface for up to three well proven measurement parameters: a disinfectant such as free or total chlorine, chlorine dioxide, ozone, or potassium permanganate, pH, ORP or fluoride and temperature. The analyzer is available with two amperometric disinfectant measurement technologies: DEPOLOX 5 C Flow Cell which utilizes the fast reacting bare electrode and the VariaSens C analyzer which incorporates the membrane based amperometric sensor technology. Data can be easily transferred to mobile devices or incorporated into plant-wide measurement dashboard.
Communication with the instrument includes a standard Ethernet port which allows access to built-in web visualization of all pertinent information when connected to a local area network. An RS 485 port and four mA outputs are also standard for communication to other plant monitoring and control systems.
FEATURES:
4″ Color touch panel

State of the art communication possibilities via an Ethernet interface

Data logging of measurement values with easy transfer to remote devices

LED lit flow cell that can be programmed to change color in case of an alarm or fault condition
APPLICATIONS
Boiler Feedwater

Cooling Tower Water Treatment

Equipment Washing and Sanitization

Industrial Pretreatment

High Purity Water Treatment

Industrial Pretreatment

Chloramination

Distribution system re-chlorination

Drinking water disinfection

Reverse Osmosis Membrane Pretreatment

Wastewater and Reuse chlorination/dechlorination

Industrial Pretreatment
You can trust the 10-year experience of our engineers in striving to provide the best solutions for your business!