DEPOLOX Pool E 700 P Pool Management System
Online process analyzer for the measurement and control of disinfectant concentration in Aquatics applications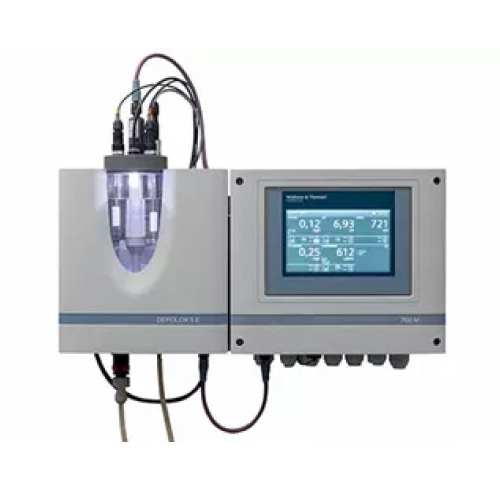 Place your order at AQUAANALYTIC, Dubai.
We will quickly deliver your order to any country.

The DEPOLOX Pool E 700 P system is a complete pool water management system that incorporates many of the existing differentiated pool water treatment features such as DIN contact, shock chlorination menu, economic mode operation as well as the CEDOX control algorithm. The controller supports all chemical feed applications commonly found in pool water treatment such as dosing pumps or relay control feeders, chlorine gas feed control, on-site electrochlorination system operation as well as a control signal to UV systems, flocculation and/or activated carbon slurry feed systems.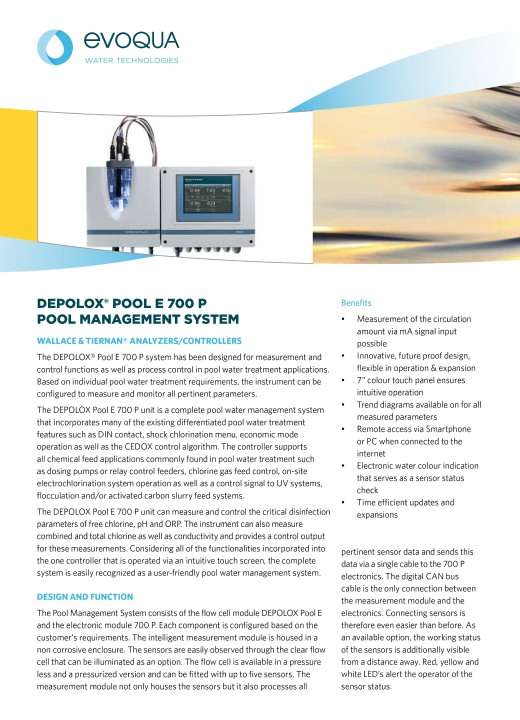 DEPOLOX Pool E 700 P Pool Management System
DEPOLOX Pool E 700 P Pool Management System
The DEPOLOX Pool E 700 P system can measure and control the critical disinfection parameters of free chlorine, pH and ORP. The instrument can also measure combined and total chlorine as well as conductivity and provides a control output for these measurements. Considering all of the functionalities incorporated into the one controller that is operated via an intuitive touch screen, the complete system is easily recognized as a user-friendly pool water management system.
FEATURES:
7" color touch panel ensures intuitive operation

Trend diagrams available on for all measured parameters

Time efficient updates and expansions
BENEFITS
Remote access via Smartphone or PC when connected to the internet allows for viewing of data anywhere

Optional electronic water color indication that serves as a sensor status check
Measuring Parameters: Total chlorine, Free chlorine, Combined chlorine, pH, Redox (ORP), Conductivity, Temperature
You can trust the 10-year experience of our engineers in striving to provide the best solutions for your business!