G2 Power Supply (Legacy Power Products) Ionpure
Legacy power products for late-model CEDI modules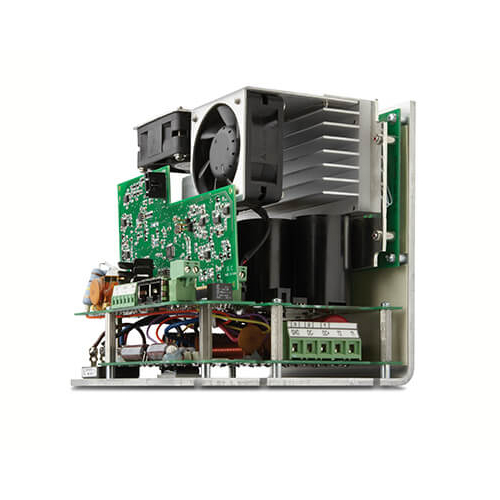 Place your order at AQUAANALYTIC, Dubai.
We will quickly deliver your order to any country.

The G2 DC Power Controller is a modern and highly reliable solid state rectifier that will succeed the existing single-phase and three-phase Ionpure DC power controllers. A single board takes the place of six previous models. Additionally, it can be used with MX, LX, and VNX Ionpure CEDI modules.
The G2 display unit is designed to independently control one to 16 G2 Power Controllers (rectifiers), allowing for optimal performance of each CEDI module integrated into your water system.
These devices simplify your system design by controlling 1 to 16 individual G2 Power Controllers, which are solid state rectifiers for single-phase 200 – 600 VDC. Additionally, they provide you with real-time feed power conditions and output conditions. Finally, they can be easily connected and powered via a single ethernet (CAT6) cable.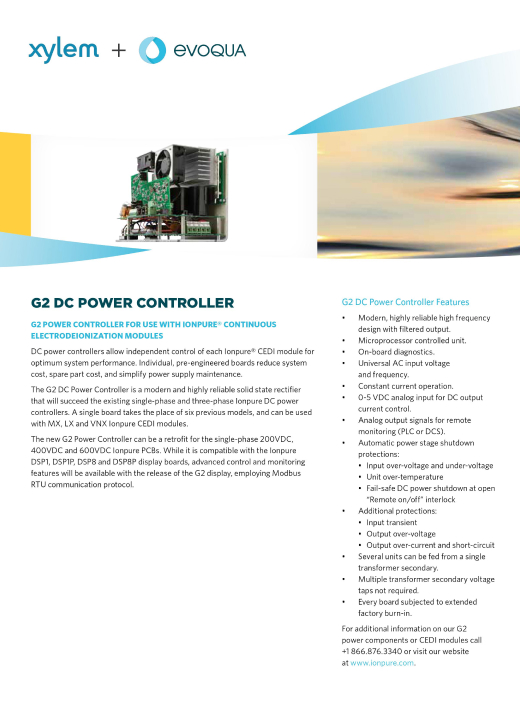 G2 Power Supply (Legacy Power Products) Ionpure
G2 Power Supply (Legacy Power Products) Ionpure
G2 POWER CONTROLLERS FEATURES:
Automatic power stage shutdown protections

Input transient

Output over-voltage

Output over-current

Short circuit protection

Stable and modern solid state rectifier

Innovative "soft-start" circuitry

Conformal coating for enhanced environmental protection
G2 DISPLAY BOARD FEATURES:
60-day running log of each module electrical resistance, amperage, and operational hours

Password protection capabilities for menu and setting levels

Maximum and minimum board conditions including power input, output, resistance, and board temperature

Module electrical resistance percent change from start-up

Analog I/O conditions for PLC

Monitor board alarm conditions

RoHS, CE-compliant, and UL-recognized component
BENEFITS
Control IONPURE MX, LX, and VNX modules easily with a single G2 Power Controller

Ability to run multiple G2 controllers on one secondary winding

Systems are easily connected via ethernet cable

Real-time feed power conditions and output conditions
You can trust the 10-year experience of our engineers in striving to provide the best solutions for your business!