Gas Feed V-2000 Chlorinator
Remote vacuum solution covering medium to high capacity applications with differentially regulated gas feeder and floor or wall mounted options for versatility.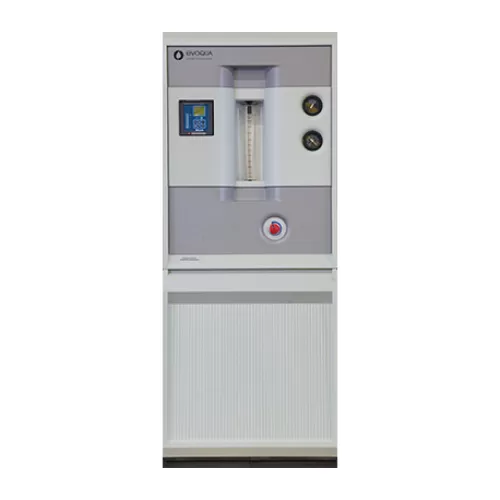 Place your order at AQUAANALYTIC, Dubai.
We will quickly deliver your order to any country.

Large vacuum regulators with unique, integral pressure check valve that all but eliminate the possibility of venting gas to the atmosphere
Built-in non-isolating, automatic switchover option for continuous operation and complete withdrawal from any container, if required
The 20 :1 turn down ratio helps to address Min Max flow rates without any field adjustment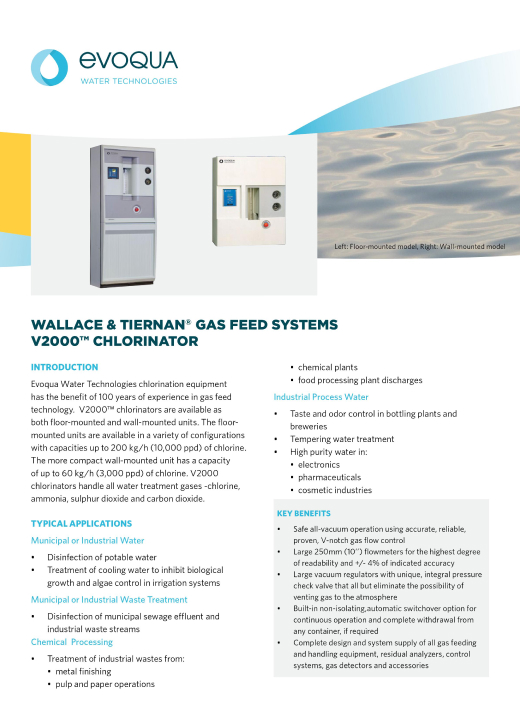 Gas Feed V-2000 Chlorinator
Gas Feed V-2000 Chlorinator
The Wallace & Tiernan product family of V2000 gas chlorinators consist of a floor mounted unit with a maximum capacity of 10,000 lbs / 4500 kg per day (chlorine) and a more compact wall mounted unit with a capacity of 3000 lbs / 1360 kg per day (chlorine). Gas flow control is achieved by the proven Wallace & Tiernan V-notch orifice ensuring industry proven accuracy and repeatability.
FEATURES

Safe all-vacuum operation using accurate, reliable, proven, V-notch gas flow control
Large 250 mm (10") flowmeters for the highest degree of readability and +/- 4% of indicated accuracy
Complete design and system supply of all gas feeding and handling equipment, residual analyzers, control systems, gas detectors and accessories
Turn down ratio of 20 : 1 for Manual & Auto Operation
V2000 chlorinators handle all water treatment gases: chlorine, ammonia,
Sulphur dioxide and carbon dioxide.
Sulfur Dioxide Capacity, Maximum: kg/hr 180
Chlorine Capacity, Maximum: kg/hr 200
Ammonia Capacity, Maximum: kg/hr 90
Carbon Dioxide Capacity, Maximum: kg/hr 50
You can trust the 10-year experience of our engineers in striving to provide the best solutions for your business!