LaboStar RO DI Water Systems Evoqua (II type)
The LaboStar RO DI series produces high quality water with very low energy consumption.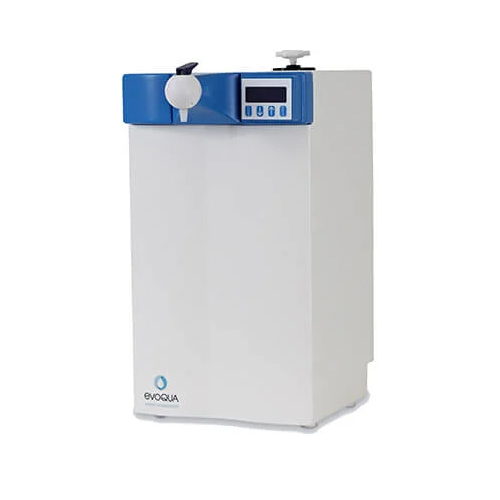 Place your order at AQUAANALYTIC, Dubai.
We will quickly deliver your order to any country.

Simple change of modules due to quick-fit coupler

Service/maitenance report

Scope of supply includes consumables

Made in Germany
LaboStar RO DI Water Systems Evoqua
The use of "low energy"membranes enable a very efficient and economical operation. Each LaboStar RO DI systems are equipped with a built-in 7 l storage tank. Pure water is collected in the tank and is recirculated by an integrated pump. LaboStar RO DI is equipped with a final DI cartridge. This cartridge polishes the RO water to Type II quality < 0.1 µS/cm.
The unit offers two extraction ports: water can be extracted under pressure from the Point-of-use dispenser or from the outlet on the back of the unit. Optionally, a charged 0.2 µm sterile filter at the dispenser can be used to remove bacteria and endotoxins. An uncharged 0.2 µm sterile filter is also available. The 7 l storage tank capacity can be increased by an additional 30 or 60 l tank. The LaboStar RO DI system is delivered with the first set of all modules and filters required for immediate operation.
FEATURES:
Connection to municipal drinking water supply

7 liter built-in storage tank

Pure water circulation right into the dispenser head

Easy to dispense water using the practical POU dispenser

0.2 µm sterile filter with or without endotoxins retention as option available

Whisper operation mode

Rapid and simple disinfection

Conductivity monitoring of RO and DI water

Easy module exchange via quick-release connections
AVAILABLE MODEL:
W3T324493 LaboStar 10 RO DI
You can trust the 10-year experience of our engineers in striving to provide the best solutions for your business!