CEDI technology optimized to provide ultrapure water for laboratory use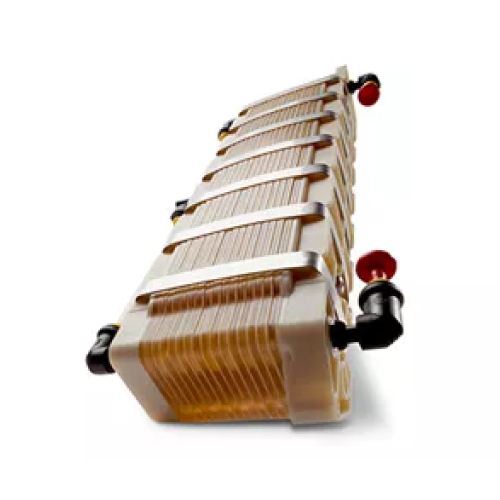 Place your order at AQUAANALYTIC, Dubai.
We will quickly deliver your order to any country.

Performance of these modules has been optimized to provide ultrapure water for a wide range of laboratory and very low-flow applications. LabXT's nominal flow rates from 3 to 15 liters per hour (lph) allow for simple and effective system design to reduce overall capital cost.
With the design of the LabXT modules, end-users with an EMD Millipore Elix system can extend the life of their system by utilizing LabXT as a direct replacement to the Elix module for maintenance and service of existing Elix systems.
Known for its leak-free operation, the LabXT module is designed for laboratory use-such as reagent water systems. There are four different modules available, with the largest model being 15 lph. This module is a four-pass unit that produces very high resistivity with very bad feedwater.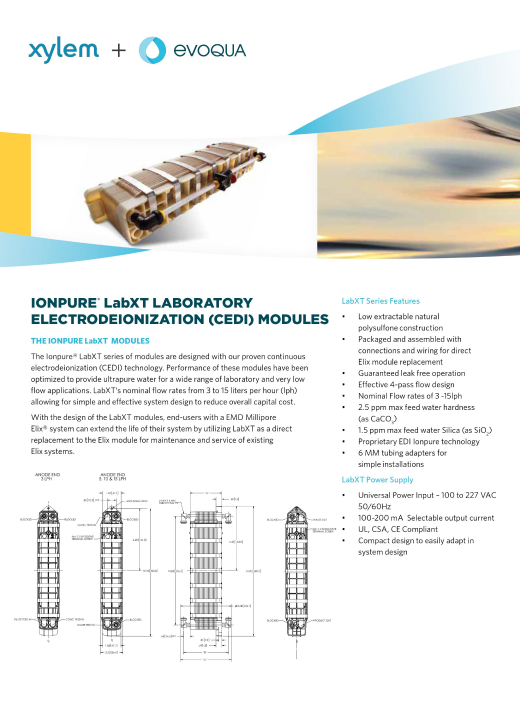 FEATURES:
Low extractable natural polysulfone construction

Effective 4-pass flow design

Nominal Flow rates of 3 -15 lph

2.5 ppm max feed water hardness (as CaCO3)

1.5 ppm max feed water Silica (as SiO2)

Proprietary EDI Ionpure(R) system technology

6 MM tubing adapters for simple installations
BENEFITS
Designed specifically for laboratory and low-flow applications

Simple and effective system design results in overall reduced capital costs

Guaranteed leak free operation

Packaged and assembled with connections and wiring for direct Elix(R) module replacement *Elix is a trademark of Merck KGAA
You can trust the 10-year experience of our engineers in striving to provide the best solutions for your business!