Large Capacity J-Press Sidebar Filter Presses
High-performance solution for higher capacity dewatering operations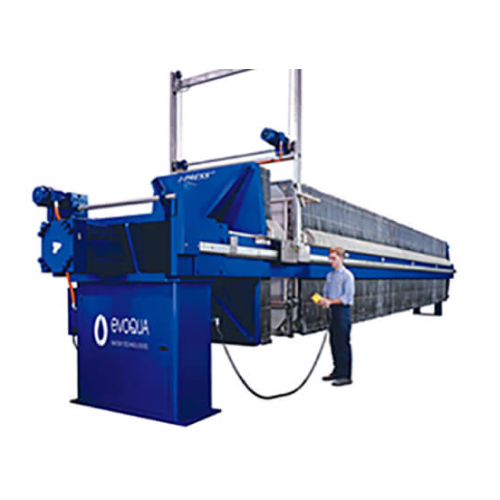 Place your order at AQUAANALYTIC, Dubai.
We will quickly deliver your order to any country.

The Large Capacity J-Press Sidebar Filter Press is a high-performance solution for higher capacity dewatering operations. It offers the most advanced automation available, from fully automatic plate shifting and cloth washing to Evoqua's unique MOCS filter press control system and a full complement of ancillary slurry processing and cake handling systems. The Large Capacity J-Press Sidebar Filter Press combines rugged ASTM-A36 steel construction, precision engineering, ease of operation and a wide range of features and options to tackle the most difficult dewatering problems.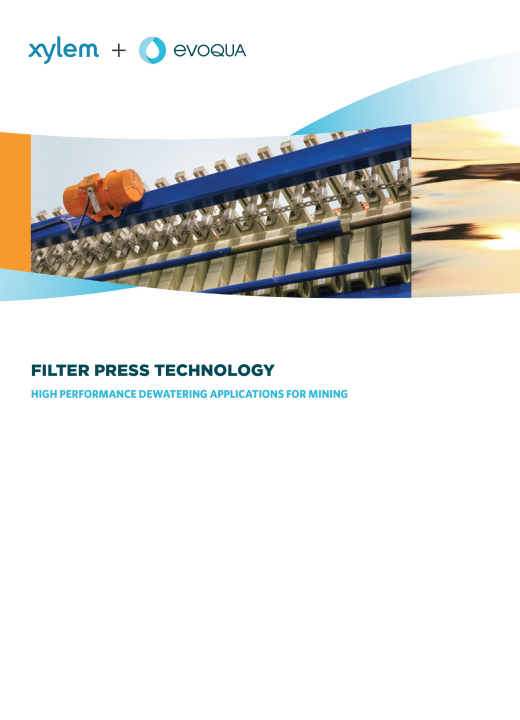 Large Capacity J-Press Sidebar Filter Presses
Large Capacity J-Press Sidebar Filter Presses
FEATURES
Available in 5 frame sizes from 1000mm to 2000mm made of heavy duty carbon steel plate and sheet, sandblasted and finished for maximum service life.

Available in 2 standard operating pressures of 100 psig (7 bar) and 225 psig (16 bar)and cake holding capacities from 25 (1.42 m3) to 600 ft3 (16.99 m3)

All process connections come pre-piped for plug-and-play installation

All filter plate wetted parts are polypropylene with PVC, carbon steel, FRP or stainless steel piping manifold for maximum corrosion resistance.
BENEFITS
Wide range of configurable options and sizes ensure cost efficient capabilities customize to the user needs

Self compensating electric/hydraulic closure system is standard to minimize labor requirements

Can be automated for operator free operation with remote fault alerts

Press Frame
Feature: Can be provided with capacity for additional filter plates.
Advantage: Press can be easily upgraded at minimal cost for greater throughput in the future.

Filter Plates
Feature: Lightweight polypropylene with excellent corrosion resistance. Replaceable wear components in critical areas.
Advantage: Extended plate life and lower operating costs.

Hydraulic Clamping Cylinders
Feature: Maintains proper clamping force during the press cycle. Cylinders are rugged and easy to maintain.
Advantage: Maintenance costs are minimized.

Diverter Doors
Feature: Close to prevent wash water from entering the cake transport system. Open to allow discharge of cake. Rugged, heavy duty design, automatic operation.
Advantage: Prevents cloth wash water from re-wetting filter cakes after discharge. Minimal maintenance, no operator requirement.

Wash Troughs
Feature: Channel wash water from the diverter doors to a drain. V" bottom with flush nozzles located at each end to prevent solids buildup.
Advantage: Reduces maintenance requirements to clean out clogged troughs.
You can trust the 10-year experience of our engineers in striving to provide the best solutions for your business!