LX-HI Hot Water Sanitizable Modules Ionpure
Control microbial growth with a CEDI module designed for pharmaceutical applications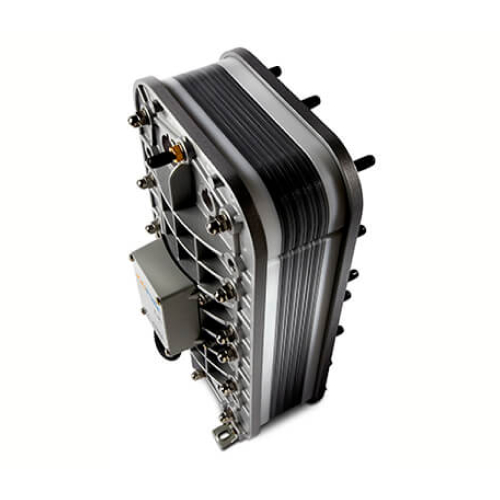 Place your order at AQUAANALYTIC, Dubai.
We will quickly deliver your order to any country.

The Ionpure LX-HI modules are specifically designed for pharmaceutical applications. Based on IONPURE LX-HWS modules, the HI module can be instantly sanitized with 85°C hot water, and then quickly switched back to cool feed.
Hot water sanitization has been shown to be more effective than chemical sanitization for controlling microbial growth. Ease of operation, maximum reliability, and low operating costs are signature features of Evoqua's Ionpure modules. LX-HI modules are ideal for pharmaceutical, biotechnology, and other applications where chemical-free, instant hot water sanitization is desired. LX-HI modules produce high-purity water without regeneration downtime.
Evoqua's Ionpure LX-HI modules use polysulfone spacers, which are suitable for the production of USP-purified water for pharmaceutical applications, and are hot water sanitizable (HWS) at 80 °C. The systems can operate continuously at 60 °C. All other modules are limited to 45 °C for continuous operation.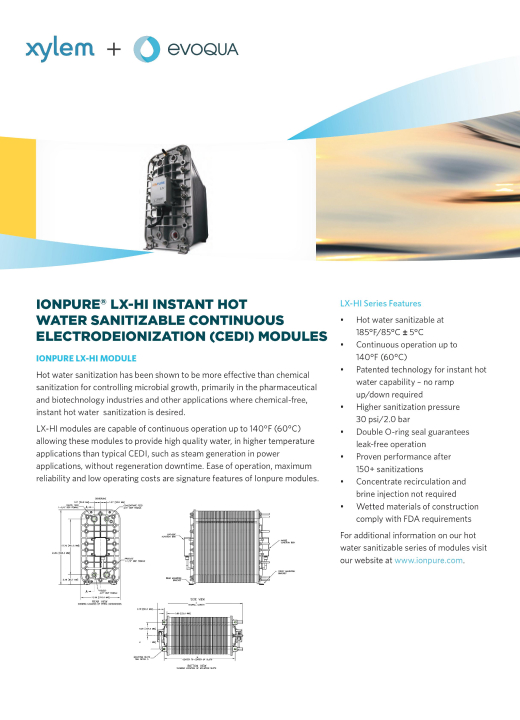 LX-HI Hot Water Sanitizable Modules Ionpure
LX-HI Hot Water Sanitizable Modules Ionpure
FEATURES:
Low extractable natural polysulfone construction

Effective 4-pass flow design

Nominal Flow rates of 3 -15 lph

2.5 ppm max feed water hardness (as CaCO3)

1.5 ppm max feed water Silica (as SiO2)

Proprietary EDI Ionpure(R) system technology

6 MM tubing adapters for simple installations
BENEFITS
Designed specifically for laboratory and low-flow applications

Simple and effective system design results in overall reduced capital costs

Guaranteed leak free operation

Packaged and assembled with connections and wiring for direct Elix(R) module replacement *Elix is a trademark of Merck KGAA
You can trust the 10-year experience of our engineers in striving to provide the best solutions for your business!