Versatile dewatering device ideal for larger throughput which can withstand the harshest of environments.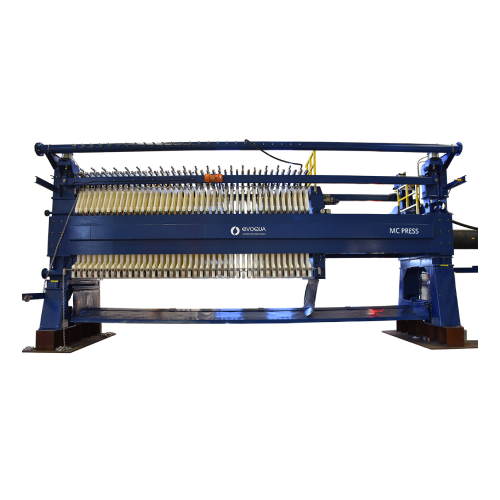 Place your order at AQUAANALYTIC, Dubai.
We will quickly deliver your order to any country.

Improved Uptime, Efficiency and Costs

The driest cake — minimizes handling and processing costs

The clearest liquid effluent — suitable for reuse, improves water conservation

Durable robust design and construction — minimizes maintenance costs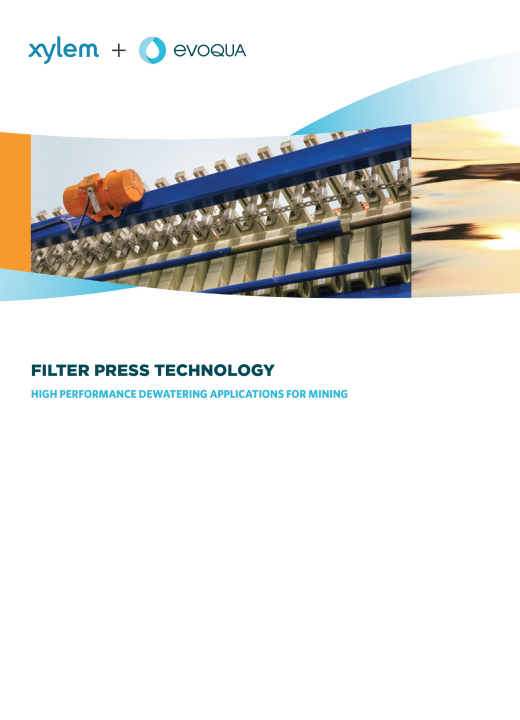 The MC Press Filter Press from Evoqua is one of the most versatile dewatering devices for use in high solids filtration applications which is designed and manufactured under the strictest ISO 9011:2008 quality management system. With unique design features and a simplified operation, it can achieve the driest filter cakes with or without diaphragm squeeze. The MC Press filter press provides high cake discharge consistency, low cake moisture content and superior reliability coupled with greatly reduced maintenance requirements.
The MC Press filter press is utilized in the mining industry to process tailings and mineral concentrates in every environment, including the most rugged environments at the highest, driest altitudes.
The MC Press filter press is also idealy suited for large industrial dewatering applications such as Chemical processing and Wastewater
FEATURES
Cloth Wash System




Feature: All cloths can be washed after every cake discharge cycle – or as frequently as is needed.




Advantage: Extends cloth life and improves press operation by cleaning the sealing surfaces between plates preventing production losses.

Cake Discharge Monitoring System (Optional)




Feature: Photoelectric beam checks to determine that all cloths are in raised position when press is fully open.




Advantage: Insures that all cakes have discharged from the press before proceeding with the next cycle.

Plate Travel Assembly (S & D Models)


Feature: The press is opened and closed by a simple mechanical drive system that is easy to understand and maintain.




Advantage: Reduced maintenance costs. No special tools or specialized maintenance training required.

Spring-Supported Cloth Bars


Feature: Cloths move down as cakes are discharged. Cakes shear from cloths when cloth support bars reach the end of their travel.




Advantage: 2-minute cloth changeout. Proven to be the most reliable method of filter cake discharge.

Vibration Bars
Feature: Act as a backup to the primary cake discharge system. Activated when cake discharge monitoring system detects that one or more cakes have not discharged.
Advantage: Assists with filter cake discharge if process conditions change and cakes become sticky.
Linked Filter Plates
Feature: The dewatered filter cakes are quickly discharged as the press opens.
Advantage: Shorter cycle times and greater throughput.
Press Frame
Feature: Can be provided with capacity for additional filter plates.
Advantage: Press can be easily upgraded at minimal cost for greater throughput in the future.
Filter Plates
Feature: Lightweight polypropylene with excellent corrosion resistance. Replaceable wear components in critical areas.
Advantage: Extended plate life and lower operating costs.
Hydraulic Clamping Cylinders
Feature: Maintains proper clamping force during the press cycle. Cylinders are rugged and easy to maintain.
Advantage: Maintenance costs are minimized.
Diverter Doors
Feature: Close to prevent wash water from entering the cake transport system. Open to allow discharge of cake. Rugged, heavy duty design, automatic operation.
Advantage: Prevents cloth wash water from re-wetting filter cakes after discharge. Minimal maintenance, no operator requirement.
Wash Troughs
Feature: Channel wash water from the diverter doors to a drain. V" bottom with flush nozzles located at each end to prevent solids buildup.
Advantage: Reduces maintenance requirements to clean out clogged troughs.
You can trust the 10-year experience of our engineers in striving to provide the best solutions for your business!