OSEC B-Plus On-Site Hypochlorite Generation System
OSEC B-Plus system is a fully automated, moduar On-Site Hypochlorite generating system that creates 0.8% sodium hypochlorite solution based on bipolar electrode technology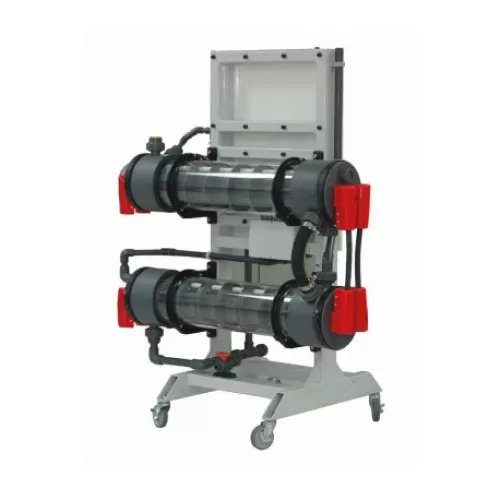 Place your order at AQUAANALYTIC, Dubai.
We will quickly deliver your order to any country.

The OSEC B-Plus system generates a 0.8 % sodium hypochlorite solution through the electrolysis of brine, consuming only water, salt and electricity. By producing hypochlorite on-site and on-demand, the system eliminates concerns associated with transportation and storage of chlorine gas or commercial sodium hypochlorite solutions, making it ideal for any medium to large scale application requiring chlorination.
OSEC B-Plus On-Site Hypochlorite Generation System
OSEC B-Plus On-Site Hypochlorite Generation System
FEATURES

Robust engineered cell design
Compact footprint
Fully-tested, complete system
Immediate access to all components
High end, wide screen displays with fast and secure controller PLC
Certified to NSF/ ANSI 61 Drinking Water
BENEFITS
Reliable operation minimizes maintenance and reduces the risk of potential downtime
Compact modular approach ideal for chlorine conversions and OSHG retrofits
Configurable system provides complete solution to seamlessly integrate into a treatment facility
You can trust the 10-year experience of our engineers in striving to provide the best solutions for your business!