OSEC L On-Site Hypochlorite Generation System
The OSEC L system is a fully automated and pre-packaged low-capacity On-Site Hypochlorite generating system that creates <1% sodium hypochlorite solution based on disposable bipolar electrode technology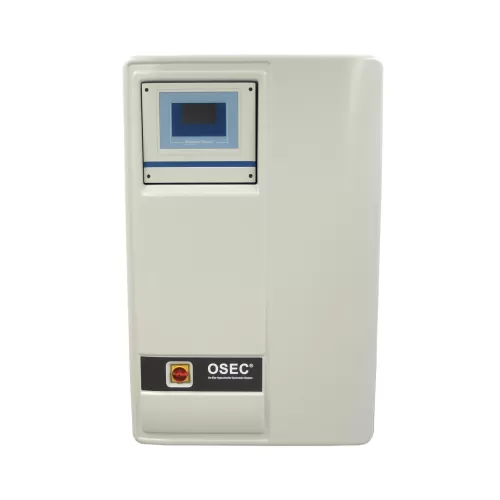 Place your order at AQUAANALYTIC, Dubai.
We will quickly deliver your order to any country.

The OSEC L On-Site Hypochlorite Generation System is a proven, safe alternative to chlorine, commercial bleach, and chlorine tablets, delivering safe, efficient, reliable disinfection without the need for transport of chlorine gas, bulk Hypo or acid cleaning. The OSEC L is a compact generation system that produces a sodium hypochlorite solution through the electrolysis of brine, consuming only water, salt and electricity. Operation is completely automatic, making the OSEC L Series systems ideally suited for remote or unmanned locations.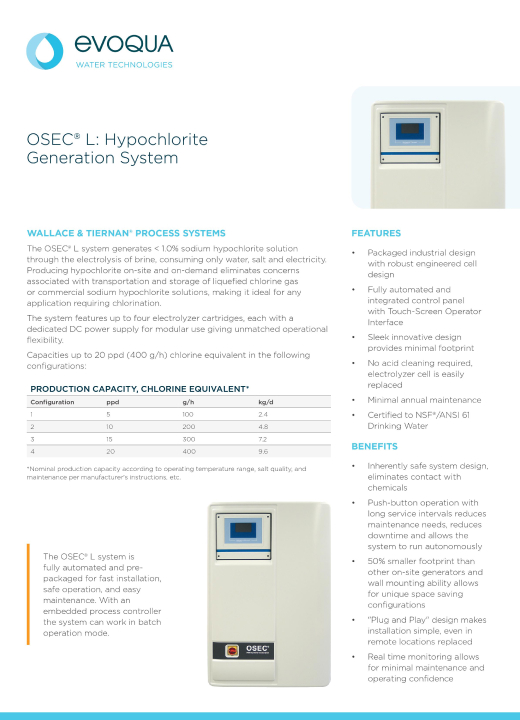 OSEC L On-Site Hypochlorite Generation System
OSEC L On-Site Hypochlorite Generation System
FEATURES

Packaged industrial design with Robust engineered cell design
Fully automated and integrated control panel with Touch-screen Operator Interface
Sleek innovative design provides aesthetically pleasing product with minimal footprint
No acid cleaning required – electrolyzer cell is easily replaced
Minimal annual maintenance.
Certified to NSF/ANSI 61 Drinking Water
BENEFITS
50% smaller footprint than other on-site generators and wall mounting ability allows for unique space saving configurations.
"Plug and Play" design making installation simple, even in remote locations
Real time monitoring of material flows and process parameters allows for minimal maintenance and operating confidence
You can trust the 10-year experience of our engineers in striving to provide the best solutions for your business!