Pacific Ozone MG Series Ozone Generators
The advanced air-cooled design of the Pacific Ozone™ MG Ozone Generator delivers large ozone production of up to 1.1kg/hr (60lb/ day). They provide safe and sustainable solutions to disinfection processes, yielding measurable results that can give customers operational peace of mind.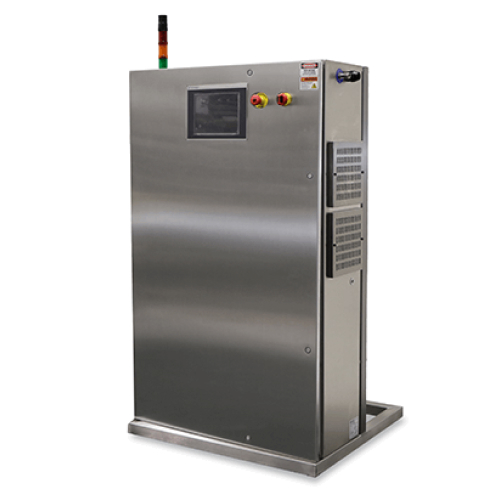 Place your order at AQUAANALYTIC, Dubai.
We will quickly deliver your order to any country.

Demand based Ozone Production
Lower Operating Cost
Feed Gas Optimization
Ozone Production: grams/hr 140.00-1120.00
Layout & Interface: Stainless Steel Single and
Configured Enclosure frame mounted – HMI
Design: Generator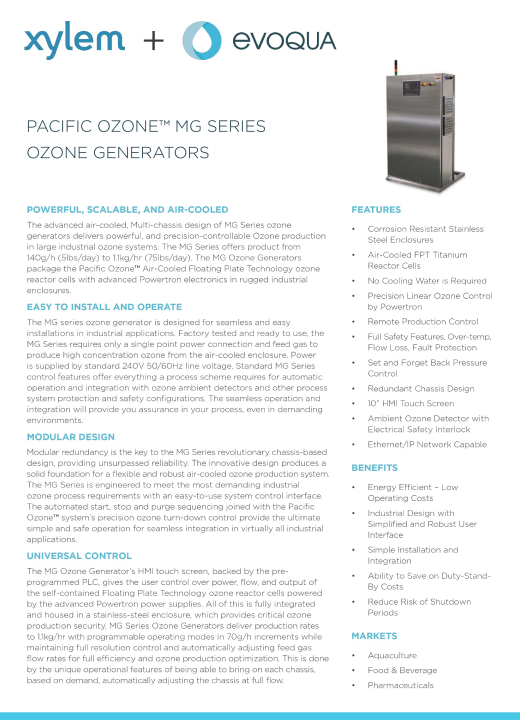 Pacific Ozone™ MG Series Ozone Generator Systems
Pacific Ozone MG Series Ozone Generators
The advanced air-cooled, multi-chassis design of MG Series ozone generators delivers powerful, and precision-controllable Ozone production in large industrial ozone systems. The MG Series offers product from 140g/h (5lbs/day) to 1.1kg/hr (60lbs/day). MG Ozone Generators package the air-cooled Pacific Ozone™ Floating Plate Technology ozone reactor cells with advanced Powertron electronics in rugged industrial enclosures.
FEATURES
Corrosion Resistant Stainless Steel Enclosures
Air-Cooled FPT Titanium Reactor Cells
No Cooling Water is Required
Precision Linear Ozone Control by Powertron
Remote Production Control
Full Safety Features, Over-Temp, Flow Loss, Fault Protection
Patented Set and Forget Back Pressure Control
Redundant Chassis Design
10" HMI Touch Screen
Ambient Ozone Detector with Electrical Safety Interlock
Ethernet/IP Network Capable
BENEFITS
Energy Efficient – Low Operating Costs
Industrial Design with Simplified and Robust User Interface
Simple Installation and Integration
Ability to Save on Duty-Stand-By Costs
APPLICATIONS
Disinfection
Equipment Washing and Sanitization
Ingredient Water
Aquaculture
Purified Water
Sanitization
High Purity Water Treatment
CIP
You can trust the 10-year experience of our engineers in striving to provide the best solutions for your business!