Pacific Ozone PGS Series Packaged Ozone Generators System
Compact Packaged Ozone System designed for quick and seamless integration into water or disinfection processes. Ozone production and delivery ranges from 18g/h to 70g/h and includes integrated oxygen concentrators. They provide safe and sustainable solutions to disinfection processes, yielding measurable results that can give customers operational peace of mind.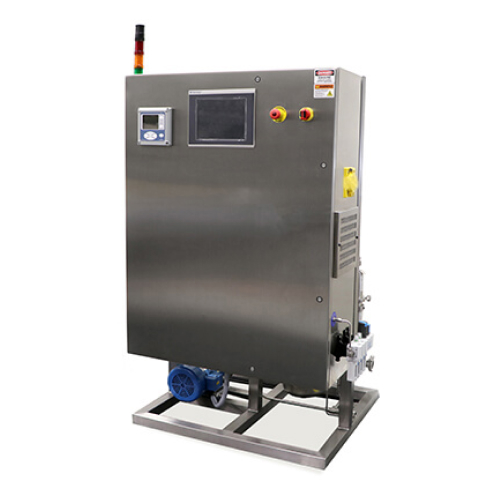 Place your order at AQUAANALYTIC, Dubai.
We will quickly deliver your order to any country.

Low Operating Cost
Compact Footprint
Set It and Forget It Instruments
Ozone Production: grams/hr 18.00-70.00
Layout & Interface: Single Enclosure frame mounted – HMI
Design: Packaged Generator System
With the Pacific Ozone Packaged generator systems all you need is air, water, and electricity to increase the efficiency and safety of your process.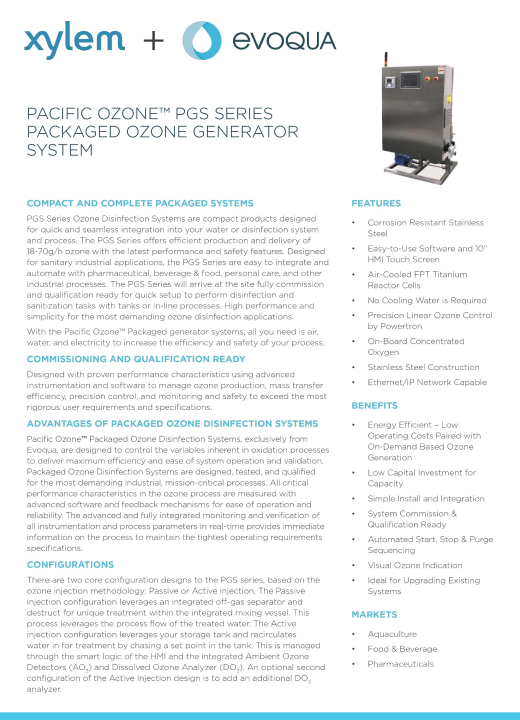 Pacific Ozone™ PGS Series Packaged Ozone Generators System
Pacific Ozone PGS Series Packaged Ozone Generators System
PGS Series Ozone Disinfection Systems are compact products designed for quick and seamless integration into your water or disinfection system and process. The PGS Series offers efficient production and delivery of 18-70g/h ozone with the latest performance and safety features. Designed for sanitary industrial applications, PGS's are easy to integrate and automate with pharmaceutical, beverage & food, personal care and other industrial processes. PGS's will arrive to the site fully commission and qualification ready for quick setup to perform disinfection and sanitization tasks with tanks or in-line processes. High performance and simplicity for the most demanding ozone disinfection applications.  
CONFIGURATIONS
There are two core configuration deigns to the PGS series, based on the ozone injection methodology: Passive or Active injection. The Passive injection configuration leverages an integrated off-gas separator and destruct for unique treatment within the integrated mixing vessel. This process leverages the process flow of the treated water.  The Active injection configuration leverages your storage tank and recirculates water in for treatment by chasing a set point in the tank. This is managed through the smart logic of the HMI and the integrated Ambient Ozone Detectors (AO3) and Dissolved Ozone Analyzer (DO3). An optional second configuration of the Active Injection design is to add an additional DO3 analyzer. 
FEATURES
Corrosion Resistant Stainless Steel
Easy-to-use Software and 10" HMI Touch Screen
Air-Cooled FPT Titanium Reactor Cells
No Cooling Water is Required
Precision Linear Ozone Control by Powertron
On-board Concentrated Oxygen
Stainless Steel Construction
Precision Ozone Control Powered by Powertron
Ethernet/IP Network Capable
BENEFITS
Energy Efficient – Low Operating Costs Paired with On-Demand Based Ozone Generation
Low Capital Investment for Capacity
Simple Install and Integration
System Commission & Qualification Ready
Automated Start, Stop & Purge Sequencing
Visual Ozone Indication
Ideal for Upgrading Existing Systems
APPLICATIONS
Disinfection
Equipment Washing and Sanitization
Ingredient Water
Aquaculture
Purified Water
Sanitization
High Purity Water Treatment
CIP
You can trust the 10-year experience of our engineers in striving to provide the best solutions for your business!