Ultra Clear RO EDI Lab Water Systems Evoqua (II type)
The successful Ultra Clear RO EDI Series system combines leading edge technology and modern design.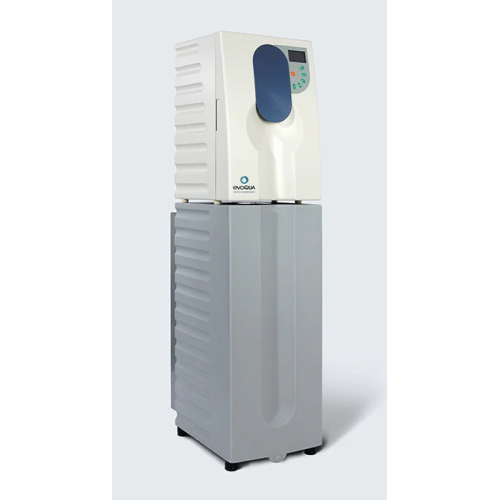 Place your order at AQUAANALYTIC, Dubai.
We will quickly deliver your order to any country.

Simple change of modules due to quick-fit coupler

Service/maitenance report

Scope of supply includes consumables

Use of Ionpure EDI or El-Ion cells

Optional communication interface module

Made in Germany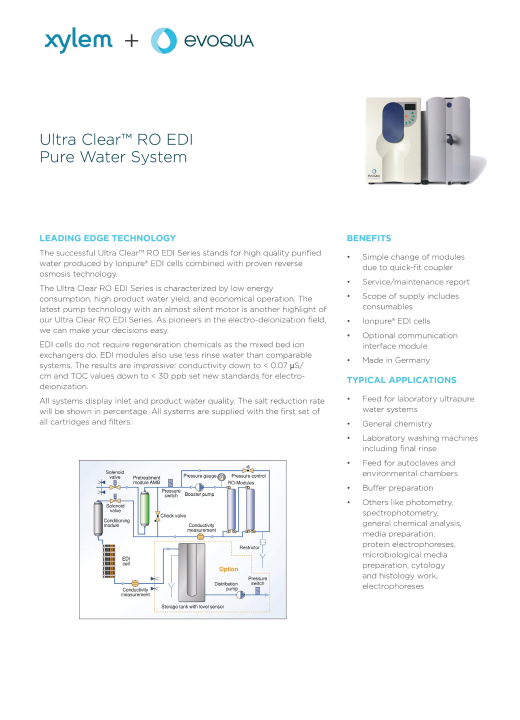 Ultra Clear RO EDI Lab Water Systems Evoqua
Ultra Clear RO EDI Lab Water Systems Evoqua
The name stands for the high quality purified water produced by the EDI cells combined with proven reverse osmosis technology.
The Ultra Clear RO​ EDI Series is characterized by low energy consumption, high product water yield, and economical operation. The latest pump technology with an almost silent motor is another highlight of our Ultra Clear RO EDI Series. As pioneers in the electro-deionization field, we can make your decisions easy.
EDI cells do not require regeneration chemicals as the mixed bed ion exchangers do. EDI modules also use less rinse water than comparable systems. The results are impressive: conductivity down to < 0.070 µS/cm, TOC values down to < 30 ppb, reduction of endotoxins down to < 0.02 EU/ml and significant bacteria reduction, set new standards for electro-deionization.
All systems display inlet and product water quality. The salt reduction rate will be shown in percentage. All systems are supplied with the first set of all cartridges and filters.
FEATURES:
Connection to municipal drinking water supply

Whisper operation mode

Rapid and simple disinfection

Conductivity monitoring of RO and EDI water

Easy module exchange via quick-release connections
MODELS:
W3T324496 Ultra Clear RO EDI 10

W3T441749 Ultra Clear RO EDI 20

W3T441750 Ultra Clear RO EDI 30
You can trust the 10-year experience of our engineers in striving to provide the best solutions for your business!