VNX 55-E Module for Microelectronics Ionpure
High-flow module, designed to produce high-purity water for the microelectronics industry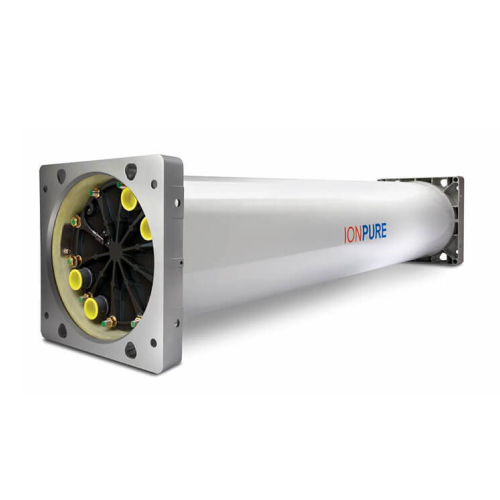 Place your order at AQUAANALYTIC, Dubai.
We will quickly deliver your order to any country.

The VNX55-E high flow module is designed with proven Ionpure continuous electrodeionization (CEDI) technology to produce high purity water. Performance has been optimized for high recovery and the ultrapure water demands of the microelectronics industry.
Each VNX55-E industrial module has a nominal flow rate of 55 gpm (12.5 m³/h).
Multiple 55 gpm modules provide for simplified system design with flow rates up to, and greater than 1,000 gpm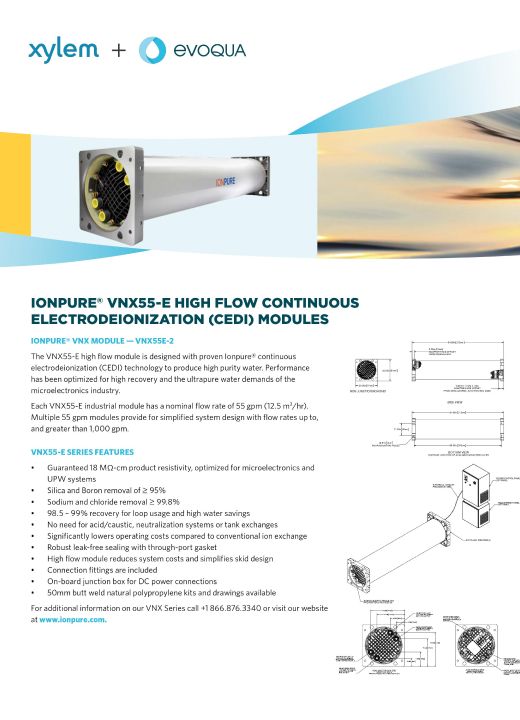 VNX 55-E Module for Microelectronics Ionpure
VNX 55-E Module for Microelectronics Ionpure
FEATURES:
Guaranteed 18 MΩ-cm product resistivity, optimized for microelectronics and UPW systems

Silica and Boron removal of ≥ 95%

Sodium and chloride removal ≥ 99.8%

98.5 – 99% recovery for loop usage and high water savings

Robust leak-free sealing with through-port gasket

High flow module reduces system costs and simplifies skid design

Connection fittings are included

On-board junction box for DC power connections

50mm butt weld natural polypropylene kits and drawings available
BENEFITS
No need for acid/caustic, neutralization systems or tank exchanges

Significantly lowers operating costs compared to conventional ion exchange
You can trust the 10-year experience of our engineers in striving to provide the best solutions for your business!