VNX 55-EP & 28-EP Module Ionpure
High-flow module, designed with proven continuous electrodeionization (CEDI) technology to produce high purity water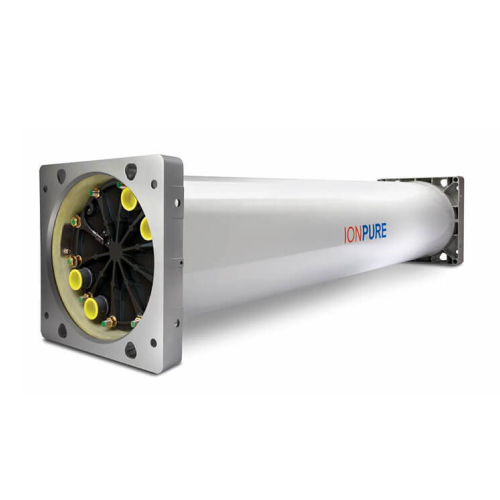 Place your order at AQUAANALYTIC, Dubai.
We will quickly deliver your order to any country.

The VNX-EP module provides ultrapure water for critical boilers in the power industry and other bulk deionization high purity applications. Multiple VNX-EP modules provide for simplified system design with flow rates up to, and greater than 1,000 gpm.
There are numerous benefits of using our VNX-EP modules such as their ability to achieve up to 95% recovery. The VNX28-EP and the VNX55-EP differ in terms of the flow rate (the model number refers to product flow). Containing one 50-cell stack, the VNX28-EP module is 27.5 gpm nominal flow. The VNX55-EP, which contains two 50-cell stacks and has a longer housing, is 55 gpm nominal flow.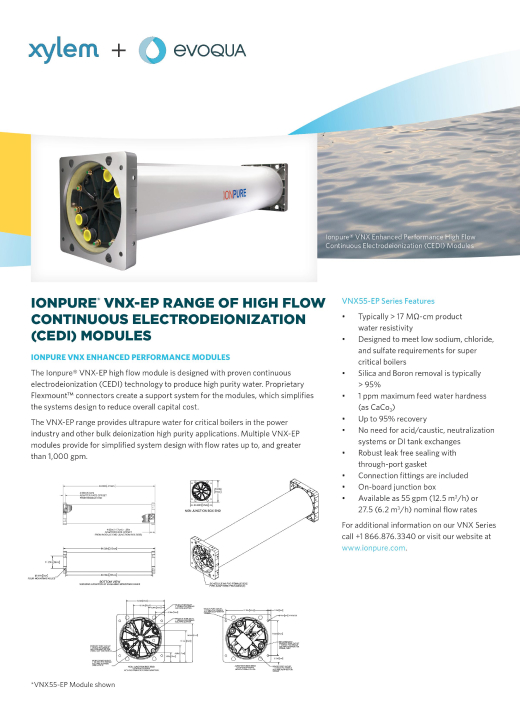 VNX 55-EP & 28-EP Module Ionpure
VNX 55-EP & 28-EP Module Ionpure
FEATURES:
Typically > 17 MΩ-cm product water resistivity

Silica and Boron removal is typically > 95%

1 ppm maximum feed water hardness (as CaCo3)

Robust leak free sealing with through-port gasket

Connection fittings are included

On-board junction box

Available as 55 gpm (12.5 m³/h) or 27.5 (6.2 m³/h) nominal flow rates
BENEFITS
Designed to meet low sodium, chloride, and sulfate requirements for super critical boilers

Up to 95% recovery

No need for acid/caustic, neutralization systems or DI tank exchanges
You can trust the 10-year experience of our engineers in striving to provide the best solutions for your business!