VNX-Mini & Max Modules Ionpure
Offers the highest flow rate per module than any other competing CEDI module available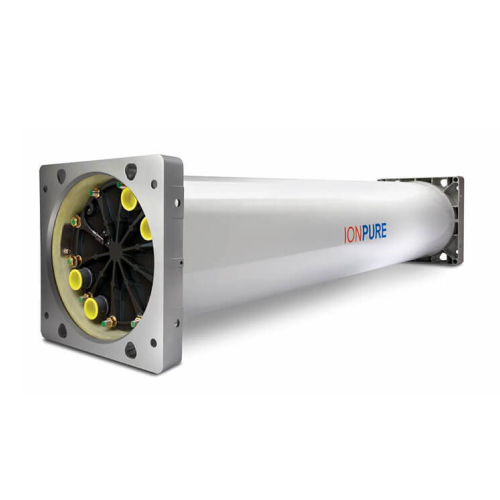 Place your order at AQUAANALYTIC, Dubai.
We will quickly deliver your order to any country.

Expanding on the legacy of the VNX family, the VNX-Max features the same proven CEDI technology, allowing it to produce high-purity water with an even higher nominal flow rate up to 22.7 m³/h (100 gpm). The VNX-Mini also produces ultrapure water in, as the name suggests, a compact package. It has a nominal flow rate of 12 m³/h (52.8 gpm), which gives high-flow systems a smaller footprint.
Just like other modules within the VNX brand family, the VNX-Mini and VNX-Max modules are designed to meet your high flow-rate needs. Both modules feature a leak-free design, and they have up to a 95% recovery rate.
Additionally, the VNX-Mini and VNX-Max modules are bundled with our most advanced power controller, the DC3. Finally, these modules – like Evoqua's other Ionpure brand products – are CE marked, meaning they're factory tested to meet strict industry standards.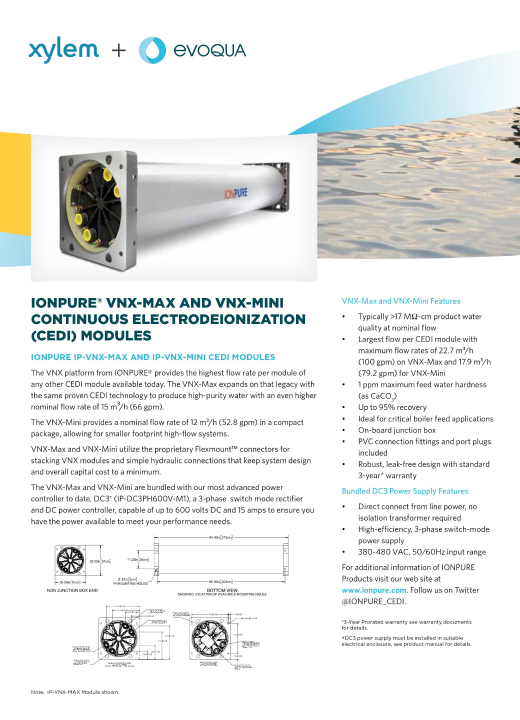 VNX-Mini & Max Modules Ionpure
VNX-Mini & Max Modules Ionpure
FEATURES:
Typically >17 MΩ-cm product water quality at nominal flow

Largest flow per CEDI module with maximum flow rates of 22.7 m³/h (100 gpm) on VNX-Max and 17.9 m³/h (79.2 gpm) for VNX-Mini

1 ppm maximum feed water hardness (as CaCO3)

On-board junction box

PVC connection fittings and port plugs included

Robust, leak-free design with standard 3-year* warranty
BENEFITS
Up to 95% recovery

Ideal for critical boiler feed applications
You can trust the 10-year experience of our engineers in striving to provide the best solutions for your business!