Digital Communication Rectifiers (DCR) Ionpure
Constant control of power applied to continuous electrodeionization (CEDI) modules to optimize system performance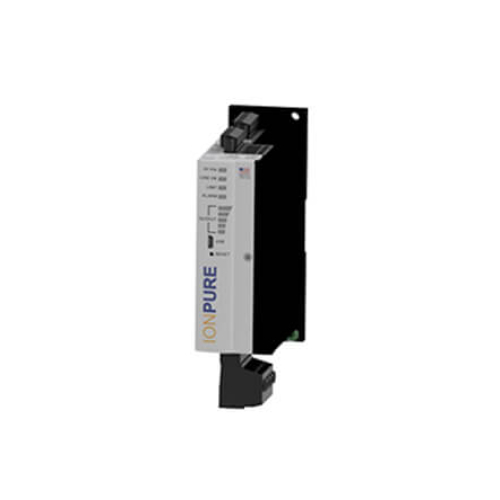 Place your order at AQUAANALYTIC, Dubai.
We will quickly deliver your order to any country.

Designed to efficiently control resistive loads, the DCR rectifier is a highly reliable, compact, single-phase DC power controller that features a high-performance microprocessor. On-board digital communication allows for easy integration with existing PLC/HMI through the use of MODBUS or 4-20 mA signals.​
Designed to power the Ionpure CEDI Modules.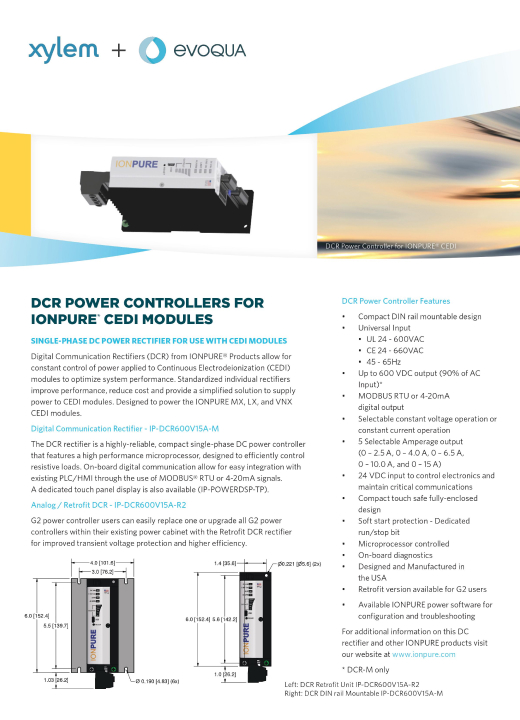 Digital Communication Rectifiers (DCR) Ionpure
Digital Communication Rectifiers (DCR) Ionpure
FEATURES:
Compact DIN Rail Mounted Design

Universal Line Inputs: ​UL:24-600VAC, CE: 24-660VAC

45-65Hz

Up to 600VAC output

MODBUS RTU or 4-20mA digital output

Plug-and-play analog retrofit version for Legacy IONPURE power product users
BENEFITS
Simplified isolation transformer requirements

Capable of running multiple DCR controllers on a single secondary winding

Highly efficient​

MOV and Voltage Limiting integrated

No longer necessary to incorporate individual devices

One controller for Ionpure, LX, VNX, MX and NEXED EDR modules

DC voltage output range from 20-600 Volts DC

DC current output range from 0-15.0Amps DC

CE marked

RoHS Compliance

Pb Lead-free

Designed and Manufactured in the USA
You can trust the 10-year experience of our engineers in striving to provide the best solutions for your business!