Pacific Ozone PC Series Portable Cart
The PC Series is a 36g/h portable ozone water cart that provides dissolved ozone wherever it is needed for diverse on-site applications. The PC Series is ideal for sanitizing surfaces in food and beverage and industrial applications. They provide safe and sustainable solutions to disinfection processes, yielding measurable results that can give customers operational peace of mind.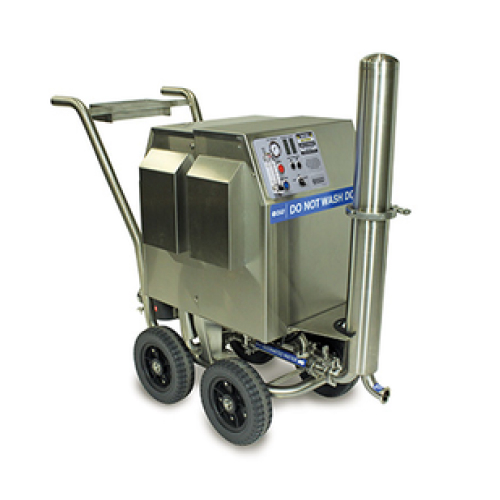 Place your order at AQUAANALYTIC, Dubai.
We will quickly deliver your order to any country.

Easy and Quick to Use
Rugged Design
Designed for Safety
Layout & Interface: Portable Cart – DCPI
Design: Portable System
With the Pacific Ozone Portable Packaged Generator Systems all you need is air, water, and electricity to increase the efficiency and safety of your process.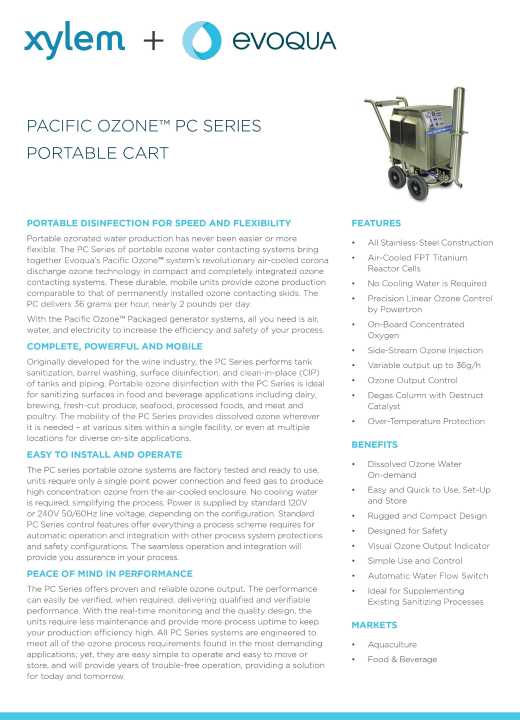 Pacific Ozone™ PC Series Portable Cart
Pacific Ozone PC Series Portable Cart
Portable ozonated water production has never been easier or more flexible. The PC Series of portable ozone water contacting systems bring together Evoqua's revolutionary air-cooled corona discharge ozone technology in compact and completely integrated ozone contacting systems. These durable, mobile units provide ozone production comparable to that of permanently installed ozone contacting skids. The PC delivers 36 grams per hour, nearly 2 pounds per day. 
FEATURES
All Stainless-Steel Construction
Air-Cooled FPT Titanium Reactor Cells
No Cooling Water is Required
Precision Linear Ozone Control by Powertron
Onboard Oxygen Concentrator
Side-Stream Ozone Injection
Variable output up to 36g/h
Ozone Output Control
Degas Column with Destruct Catalyst
Over-Temperature Protection
BENEFITS
Dissolved Ozone Water On-Demand
Easy and Quick to Use, Set-Up and Store
Rugged and Compact Design
Designed for Safety
Visual Ozone Output Indicator
Simple Use and Control
Automatic Water Flow Switch
Ideal for Supplementing Existing Sanitizing Processes
APPLICATIONS
Disinfection
Equipment Washing and Sanitization
Surface Sanitization
Portable Tank Sanitization
You can trust the 10-year experience of our engineers in striving to provide the best solutions for your business!